Helicopter Operation
We are confident that our safety first operation and good maintenance could be satisfied by our important guests.
When we started this business, we only operated two helicopters, and we grew up to six helicopters right now. This is the proof of our safety first operation and maintenance gave satisfaction to our important guests. We all staff give our pledge to pay our best effort to continue our safety first spirit.
EXAMPLE : Our Helicopter operation reference
Disaster prevention helicopter operation
In 1997, we have contracted with Shizuoka Prefecture for the operation and maintenance of Disaster prevention helicopter, which includes aerial fire fighting operation, emergency medical transportation and search and rescue operation.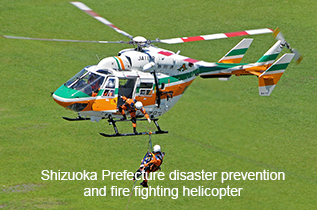 News gathering helicopter operation for Newspaper and TV company.
We facilitate helicopter for 365days seamless operation for news gathering and TV news operation which are ordinaries scene. State-of-the-art cameras and TV systems are on board which will provide beautiful photo and movie news through the year.